Screening and Vaccination Wristbands
Even after two years, challenges presented by COVID-19 persist. Hospitals and clinics need to spend their utmost time and attention caring for patients, and making sure staff are fully equipped to serve. Identiplus Healthcare Solutions helps keep the focus where it belongs by offering wristbands that signify everything from facility access for patient families and staff to vaccine status.
Made-in-the-USA products from Identiplus provide peace of mind:
Durable (100% DuPont™ Tyvek®)
Waterproof
Tear-resistant
Colorful
Easily identifiable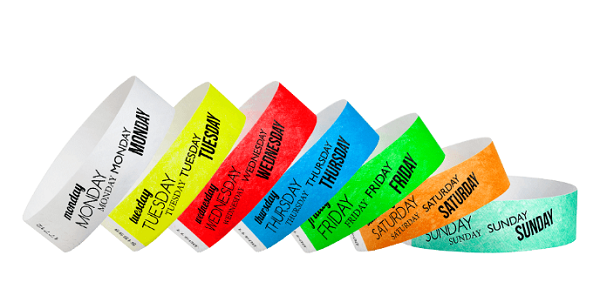 Identiplus vaccination wristbands come in 10 styles and seven colors, providing dozens of options to meet any facility's needs.

A straightforward screening process at the entrance ensures only those who meet your health standards are admitted inside, by following these steps: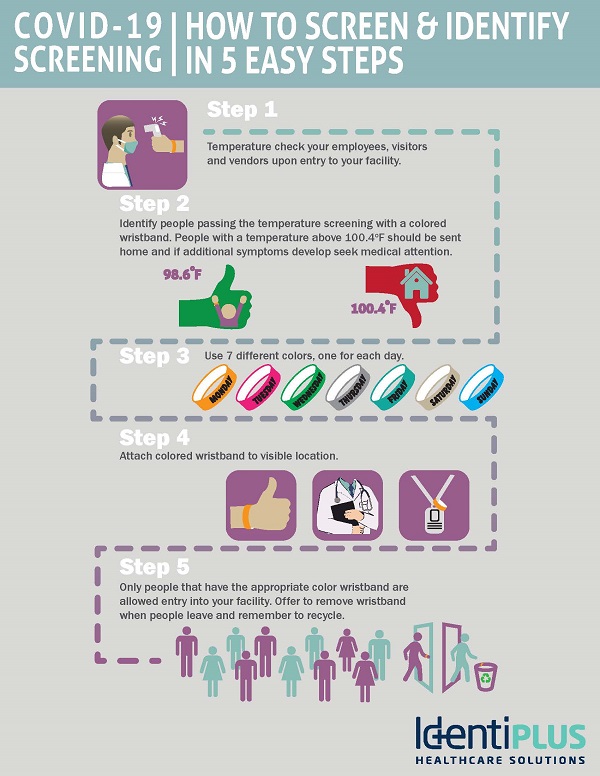 1. Temperature check along with a series of medical questions.
If the person has a temperature above 100.4

°

F, then they should be sent home. Or if they have further symptoms should seek medical attention.

If the person has a temperature around 98.6

°

F and have no other symptoms then they are safe to enter.
2. Attach an Identiplus wristband in a visible location. Use the wristband that correlates to the day of the week.
3. Mask-up!
4. Only people that have the appropriate color wristbands are allowed to enter the facility. Wristbands may be removed before the person leaves.
For more information or to connect with a representative, click
here